The swimming pool of Il Gelso farmhouse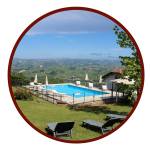 To enjoy the ultimate in relaxation there is a swimming pool with a view as far as the eye can see over the vineyards of the Langhe. You will have your access to the wonderful panoramic garden of an Art Nouveau villa.
Your relaxation with the breathtaking view of the Langhe
The pool is just 600 meters from the farm and can be reached by a walk that overlooks the castles of the Langhe or by car in less than a minute. At your disposal you will also have a parking space where you can leave your car in peace.
The pool is inside the garden of Villa Savio, a liberty style villa once owned by the painter Giovanni Savio, now owned by the structure.
The view that you will find in front of you is an enchantment: you can relax in the pool having in front of you the valley of the castles of Serralunga, Grinzane Cavour.
The breakfasts of the Il Gelso farmhouse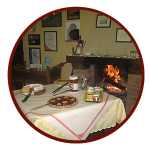 The best way to start your day in the Langhe:
a genuine, 0 km breakfast full of homemade products.