Farmhouse il Gelso breakfast
The best way to start your day
Breakfast is our "business card", the expression of our way of seeing the reception.
Every morning you will find quality products at the buffè and at 0 km. The reason?
Instead of anonymous snacks or pre-packaged biscuits, we like to offer you tasty homemade cakes.
It's our way of wishing you a good day.
Breakfast with fresh and local ingredients
breakfasts are prepared with great care and with particular attention to quality and we do our best to use only local ingredients. Everything is carefully chosen: sweet / savory cakes and homemade jams, "paesane" – the typical bread of the Langhe – typical butter, cheese and salami, coffee, milk tea and fruit juices. Even Nutella is a local ingredient, because it is produced in Alba.
We will serve you breakfast in the garden with a panoramic view of the Barolo valley. On colder mornings, breakfast is served in the cozy living room heated by the old wood-burning fireplace.
Our products
At breakfast you will find:
Cakes prepared with organic flour "Senatore cappelli" ground to the stone mill;
Leavened bread with mother yeast: Integral, with 5 cereals, wholemeal with linseed;
Baked products of the Bioforno by Sergio Mascarello di Dogliani;
Jams produced by us of Albicocca, Prugna, Darmasin (a quality of plum zonali), Mele and Pere Madernasa (an old quality rediscovered);
Products of Latteria Agricola Fusero di Savigliano.
The swimming pool of the Agriturismo il Gelso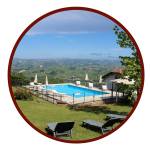 After a hearty breakfast, there is nothing better
a moment of relaxation by the pool. Discover our swimming pool.