"Casetta" apartment
About 300 meters from the main house, we renovated a very comfortable 32sqm cottage for two people. It can be considered a studio, even if it has its own garden. Guests can find the sleeping area, the kitchenette and their own bathroom.
Guests, if they wish, can have breakfast in the breakfast room in the main part of the farm.
Guest
High season
(03.04-03.01)
Low season
(20.03-02.04)
1 adult
65/70€
60€
2 adults
85/90€
80/85€
Additional single bed
+20/30€
+20/30€
From 5 to 8 years
+15/20€
+15/20€
Less than 5 years
Gratis
Gratis
SERVICES:
EVERYTHING YOU WILL FIND IN THE APARTMENT
Chek-in
Kind guests are requested to respect the following arrival times:
11.00am – 12.30pm and 5.00pm – 7.00pm
If this is not possible, you can call
+39 333 99 71 134
The activities you can do at the farmhouse il Gelso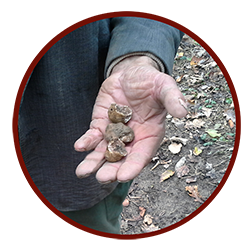 To make your stay more enjoyable you can relax by the pool or organize on
booking a tasting of our wines, or an excursion in search of truffles.